13pcs Laptop Anti Dust Silicone Plugs
Universal anti-dust plugs for Lenovo/HP/Dell/Acer/Asus laptop • With the anti-dust plugs, make your laptop interface more clean • When the plugs are dirty, they can be washed.


13pcs Laptop Anti Dust Silicone Plugs Compatible with Various Laptop Power Port, Work with USB & Mini USB Cable.
13pcs Laptop Anti Dust Silicone Plugs Replace for 58mm cooling fan.
This 13pcs Laptop Anti Dust Silicone Plugs is highly recommended and is a popular choice for many people.
The Anti Dust Laptop Silica Plugs are made of silicone, and feature multiple sizes.



About this product
Did you know that more than one million dust particles can get inside of your laptop in just one month? That is exactly why we're happy to bring you this deal. We're offering you 13pc Anti Dust Laptop Silicone Plugs for the insanely low price of just $9.99! You will be able to effortlessly breathe a sigh of relief, knowing that you've just avoided that very scenario--not to mention the thousands of dollars you would have spent at a repair shop attempting to diagnose your problem.

Here comes an easy-to-apply anti dust silicone plugs, which are made of rubber to avoid dust or other harmful outside bothers safely. Compatible with most laptops of different brands, these laptop anti dust plug are very durable for long time using. Great design helps you install it easily. A dirt free laptop is more important than you knew. Laptop fans suck in hot, stale air and blow it right back out on to the laptop's delicate hardware; that means that more than a little dust and grime will end up in your machine.
If you want to keep your computer in good shape, you should pick some laptop anti dust silicone plugs. This set comes with 13 plugs and is enough to plug most of the holes on your computer. It also keeps your ports and cords clean and free of dust and lint. This is a great first cleaning tool for your computer.

Here We offer 13pcs set of silicone inserts for notebook computer. The product is made of mildew resistant, non-toxic food grade silicone, very soft and flexible. Plug types are different which can prevent dust from entering your laptop. The Anti-Dust Laptop Plug is a reusable silicone cleaning part that is used to prevent dust from entering the laptop.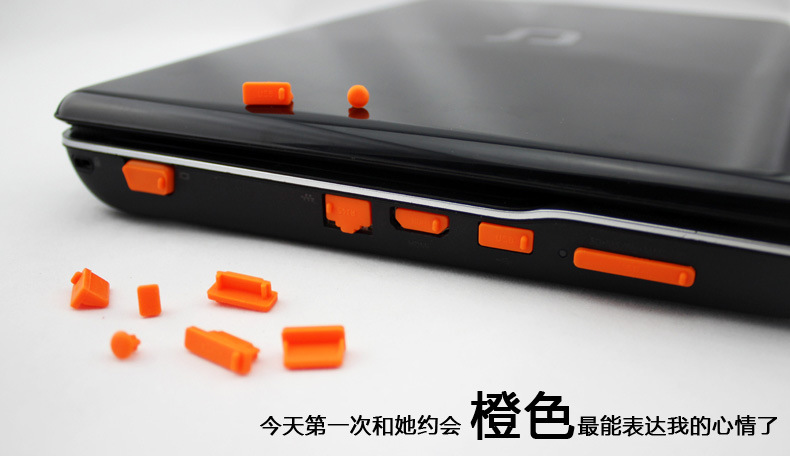 Interface type: VGA interface * 1 (standard display signal interface, used for the projector)
    USB interface * 4 (standard USB2.0 interface, used to connect a variety of extended equipment)
    HDMI * 1 (standard HDMI video signal interface, used as a TV) ; AUDIO * 2 (standard 3.5 AUDIO interface, laptop used for       connecting the headphones, speakers, etc.)
    RJ45 * 1 (standard network signal interface, used to connect to the router, etc.) ; SD * 1 (standard card reader interface)
    1394 * 1 (1394 live line of small mouth, the notebook is such a small mouth, connect DV camera) ; Hookup & amp; USB COMBO * 2 (hookup with USB seal)

Specification
Item Type: Laptops Dust plug(13Pcs/set)
Color: White, Pink, Purple, Green, Blue, Rose, Orange, Clear, Black
Condition: 100% Brand New
Place of origin: China(mainland)
Free Shipping