COMPOST BIN/HANGING SMALL TRASH CAN WITH LID FOR KITCHEN CABINET WHITE 2.4 GAL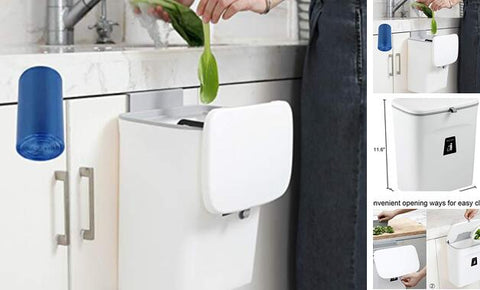 NO ODORS, NO FRUIT FLIES:The indoor compost Bin is odors free,Non fruit flies designed.With compact lid,The compost bucket keeps the odors in and the fruit flies out which is perfect for storaging food waste.
CONVENIENT LID:The lid has a two-way opener.When you slide it down, it is out of the way and easy to clean counter,when you lift it up,it's easy to dump the food waste in the dish into the trash can.
Don't NEED TO BEND OVER:The trash can with hanging designed comes with two hanging methods.Hanging over kitchen cabinet door or attached to wall(Hanging hook included).Don't need to bend over to discard items.Specifically suitable for chopping up vegetables and avoid bending back and forth.
SPACE SAVING & MOVE FREELY:The waste Bin is such lightweight and compact not only can be hung on the cabinet door to save floor space, but also easy to move to wver you need, such as under the sink, next to the toilet, bedroom, living room.
EASY TO CLEAN:The trash can with lid make of high-quality PP,It has smooth surface and firm.It's easy to clean with water.Also,It can lining it with a reuse plastic grocery bag to keep it clean.