Are you still nailing with a traditional hammer?
This is a manual beat Nail gun made of thick metal, using rebound impact principle, durable.
FEATURES
Wide Range Of Applications:
3 In 1 function (Door-shaped nails, U-shaped nails, T-shaped nails) to meet your different needs. Suitable for interior decoration, wood processing, fixed lines, box binding, woodworking DIY, photo frames, doors, and windows, etc.

Adjustment Knob:
According to your requirements, you can adjust the screw knob to change the pressure. Turn it clockwise down to make it deeper, and turn it counterclockwise to make it lighter.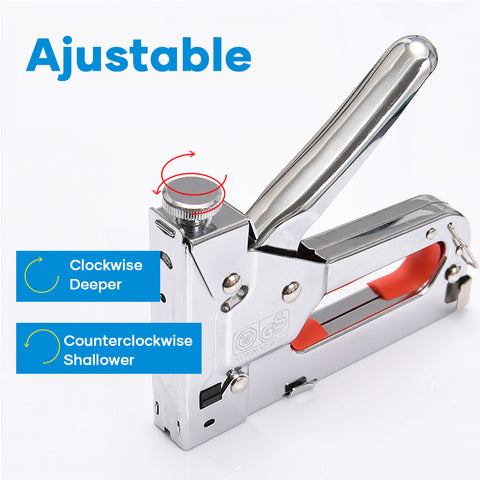 Comfortable And Compact Handle:
The lightweight body has an ergonomic handle, designed to minimize the pain during bookbinding and reduce the discomfort during continuous work. Pressure saving, comfortable grip.

Safe And Shockproof:
The anti-vibration pad design is more intimate. It protects your hands and nail gun instantly when nailing, and it is durable and long-lasting.
USING METHODS
PRODUCT SIZE (L X W)
Door-shaped nails: 11 x 8mm
U-shaped nails: 12 x 6mm
T-shaped nails: 10 x 2mm