Unfortunately, wearing a mask will be compulsory for a long time, the least we could do is wear comfortable ones!
Our 3D Breath Support will prevent these annoying problems from happening:
• Suffocation due to lack of space,
• Steam on eye glasses,
• Ruined make-up,
• Sweat,
• Acne,
• Unclear conversations.
It will be much more pleasant to wear a mask!
The enlarged breathing space of our 3D Breath Support will help you tolerate the heat during hot days!
It does not compromise the efficacy of your masks as it remains properly sealed.
Optimal comfort and durable design!
1. The three-dimensional Breath Support is designed to follow the shape of your face. The single size support will fit both kids and adults (10 x 8.5 x 3cm).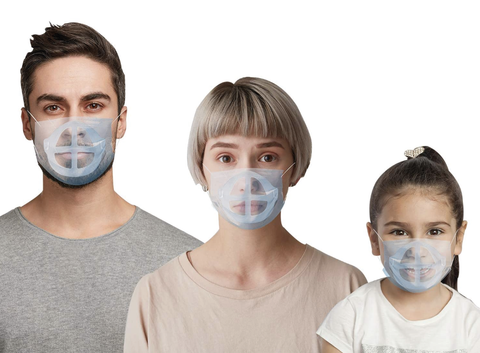 2. The frame can be hooked on surgical masks (as shown on picture number 3) and can also be used with home made masks.
3. The non-toxic, BPA-free, Latex-free and odourless thermoplastic resin is easy to wash and reusable. It can withstand temperatures up to 230 Celsius degrees so you can put it in the washing machine or the dishwasher.
4. Thanks to the 3D Breath Support, the mask can be worn for a longer period of time.
• Masks are not included  •