Solve Your Food Weighing Problem In One Go!
Our 4-IN-1 Digital Electronic Measuring Cup Scale measures all types of liquids and other ingredients for your cooking needs. The best chefs know that great cooking requires measuring by weight, not volume. The 4-IN-1 Digital Electronic Measuring Cup Scale can easily switch between six different units of measurement. It's easy to operate, but still incredibly powerful. Solve your food weighing problem in one go!
FEATURES:
6 MODES OF MEASUREMENT: Its measurement is not just for show for it can convert it into g, ml, oz, cup, ct, lb, and also can measure up to 600 ml/ 1000 g.

DETACHABLE DESIGN: You can even remove the cup from the weighing scale so you can wash it easily. When detached it can even be used to scale bigger ingredients that don't fit in the cup.

AUTO POWER OFF: Auto power off after 60 seconds of idle time. Powered by 1 x 3V CR2032 battery.

BUTTON FUNCTIONS: ON / OFF: Press the button about 2 seconds to power off; TARE: Tare function; MODE: Unit conversion. Press the button to convert units - g - ml - oz - cup - ct - lb ( 1000g = 35oz ).

HD DISPLAY.

SENSITIVE SWITCH.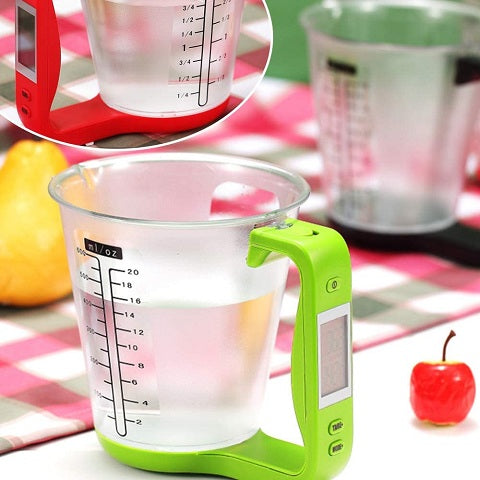 SPECIFICATIONS:
Size: 16 x 12 x 14cm

Battery: Powered by 1 x 3V CR2032 battery ( not included )

Material: Food grade ABS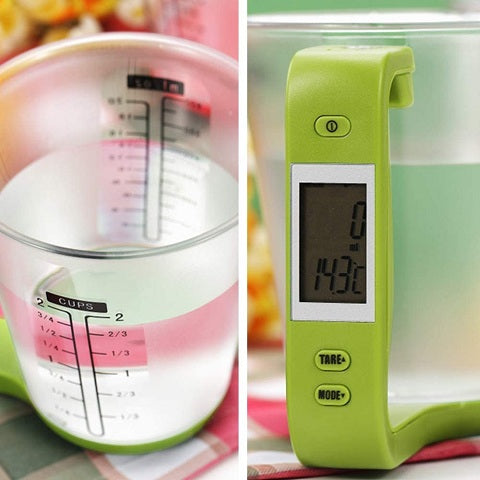 PACKAGE INCLUDES:
1 x 4-IN-1 Digital Electronic Measuring Cup Scale