STROBE EFFECT: The updated fog machine is equipped with 3 stage LED Lights to combine the fog. It is perfect for enhancing atmosphere of holidays, parties, stages, weddings, live concerts, DJ and family gatherings, karaoke, etc.
REMOTE CONTROL: Supplied with a remote handle for distant use, you can control your fog machine within a 30-meter radius, press remote button once to get continuous fog, and one key to stop. We also provide a LED remote for the three stage lights.
EFFECTIVE & HUGE OUTPUT: The 500W smoke machine can produce uniform, unscented fog very fast after 2-3 minutes of warming up. The fog output is around 2500 CFM (cubic feet per minute) and 3-5 m volume distance.
NON-TOXIC & BIG CAPACITY: FCC, CE and ROHS certified for safe non-toxic fog production; comes with a 300ml tank for long lasting fog production.
COMPACT ALUMINUM BODY & SAFE PROTECTION: Built from aluminum for better heat dissipation to ensure durability and long lifespan; Equipped with the fuse protection, once over load, the fuse protection will kick in and the machine will stop.
Feature: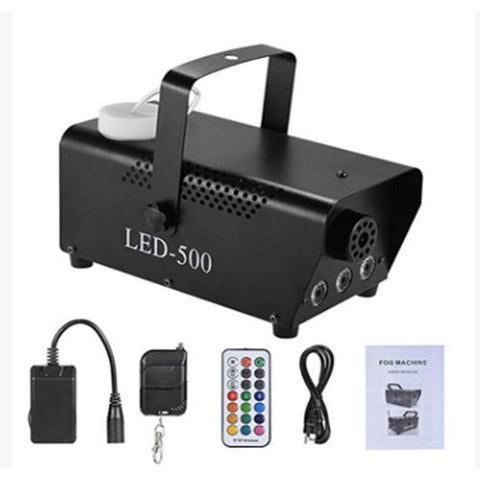 Smoke strong smoke smoke a large range of far, sustainable spray smoke.
This section smoke machine is the need to smoke oil smoke, the smoke machine itself is not equipped with smoke oil.
Equipped with suspension bracket, easy to install and use.
There are 3 LED lights that will enhance your smoke vision.
RGB LED Light, can make smoke fog into a colorful color
Suitable for stage, wedding bar KTV rooms, di bar, family ball, leisure parties, birthday PARTY party celebration and other places.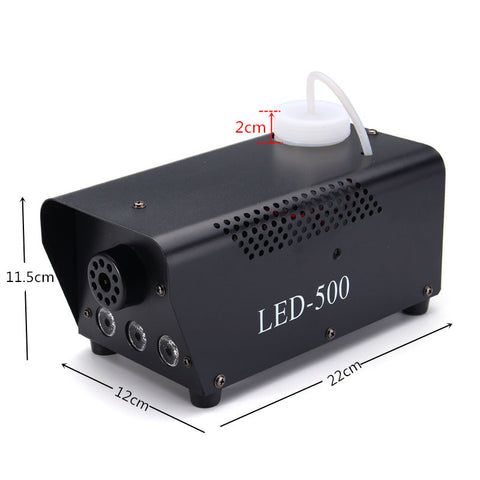 Specifications:

Size: Approx. 240x122x115mm/9.44"x4.8"x4.3"
Voltage: 220V-230V/110V/120V, 50-60Hz
Warming-up time: 4-5 minutes
Power: 500W
Oiler capacity: 0.4 liters
Tank Capacity: 0.5L
Smoke outpul: 3000 cufl/min
Output Distance: 2.5m
Controller: Wireless remote control 10 meters
Protection class: IP20
Light source type: LED
Plug: US Plug
Weight: 1819g
Package Include:

1x Smoke machine
1x Power cable
1x Control box
1x Remote control
1x Handle
2x Mounting screws
1x User manual
1x Box