Whether you're just starting your garden or cultivating a life-long passion, this mini gardening tool set has everything you need to groom your small potted plants or garden. The set includes: a spade to dislodge/move plants and create placement holes, a shovel to move dirt and shift plants, and a rake to create the perfect finished look in your garden. Start your gardening season with all the tools you need!
Included 3-Piece Set - This set includes a spade, shovel, and rake to cover all of your gardening tool needs across all seasons.
Mini Size for Easy Handling - This is the ideal tool size for potted plants and small gardens, where large tools make maneuvering difficult for even experienced green thumbs.
Strong Wood & Metal Material - These tools are crafted from strong wood and metal to make your movements feel strong and reinforced - for quick, easy gardening.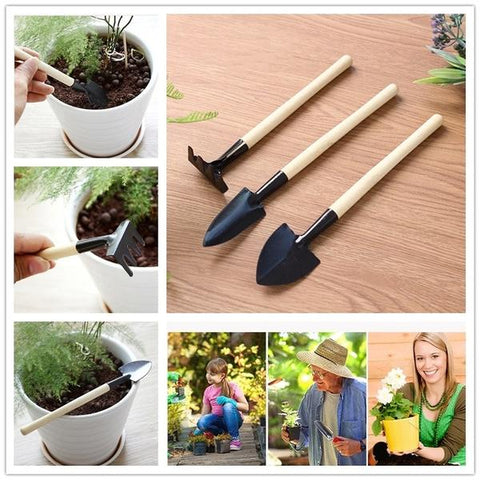 Features:
All 3 pieces have metal heads and solid wood handles
Shovel length: 4.7 inches
Rake length: 7.1 inches
Spade length: 8.9 inches
 Package Includes:
1 x Shovel

1 x Rake

1 x Spade
Note: Please consider the small size of the garden tool set. The mini size is perfect for potted plants and small garden plots, but may not be ideal for larger pots and deeper digging needs.