Magic Array wireless charging pad is pretty much like any other wireless charger in the market, but what separates this from the other is the aesthetic of it, which would definitely earn the approval of many.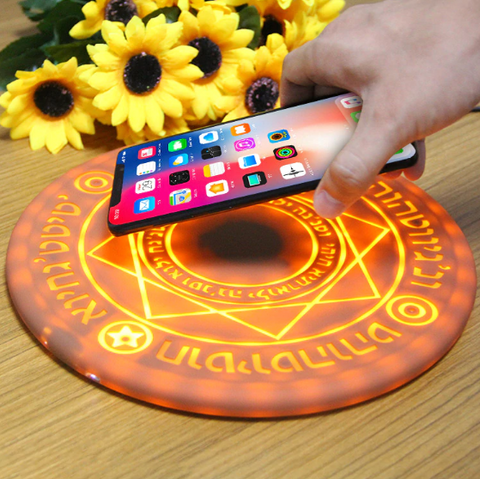 Unique design, super cool appearance, very magical and sci-fi colors, so that ordinary charging is also full of ritual feeling, the unique magic array wireless charger absolutely makes you feel amazing.
Ultra-thin design, lightweight, suitable for home and office use, easy to carry when traveling or traveling.
What you will get
Magic array technology, up to 244 LEDs, great condensation effect
Dual-interface: Type-C + Android, universal and convenient
The latest generation of intelligent control chips, more accurate
Nine magic protection, overcharge protection, overcurrent protection, overvoltage protection, overpower protection, short circuit protection, etc.
Intelligent identification of foreign objects, safe and reliable
Wide applicable to mobile phones that support wireless charging
Medieval magic pottery design, silky smooth, best luck for you
The Perfect Gift- The magical wireless charger that will surprise you and your friends
Specifications
Input voltage: 5V, 9V ( high configuration )
Power interface: Type C / Micro USB
Output power: standard 5W, fast charging 10W
Material: ABS, oil treatment rubber surface
Diameter: 25cm
Thickness: 1.5cm
Compatible with QI standard wireless charging models ( such as iPhone, Xiaomi, Samsung, LG, etc. )
10W has sound effect and sound effect control
Knock 3 times, the light-up once
Knock 6 times, sound on/off
Please note: 5W has no sound effect
Special Note
The magic array wireless charging device is a creative wireless charging device, this product does not have any magical energy and supernatural properties, the principles of all products are based on electricity and classical physics
This product is suitable for mobile devices with wireless charging function. Devices without wireless charging function will not work.