Are you looking for a binocular telescope that will help you to see what the great outdoors has to offer? Our 60x60 Binoculars Telescope Night Vision is particularly useful in low light conditions, helping you to see even more clearly during early morning hours or at dusk, making it ideal for outdoor activities such as climbing, hiking, hunting, and spying on wildlife.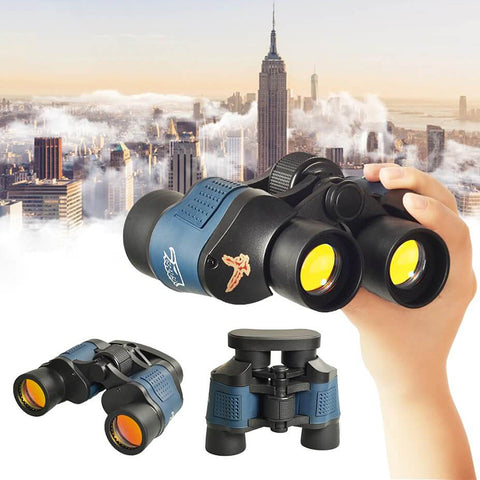 Features
Design - When you look at the light, different colored bands can show at different angles. The multi-layer coating has a very high light transmittance, with an overall light transmittance of 99.5 percent and a smooth and sharp hue.
Versatile - Adopt BaK4 prism content to reduce light emission and increase visibility. To ensure high light transmission and crisp, crisp images, BaK4 prisms are only available for medium and high-range telescopes.
Durable - Glasses can also be worn with soft glasses. The lens body is made of magnesium-aluminum alloy, which is durable and long-lasting. The metal lens body is built with ultra-high intensity impact resistance which can significantly increase the telescope's service life.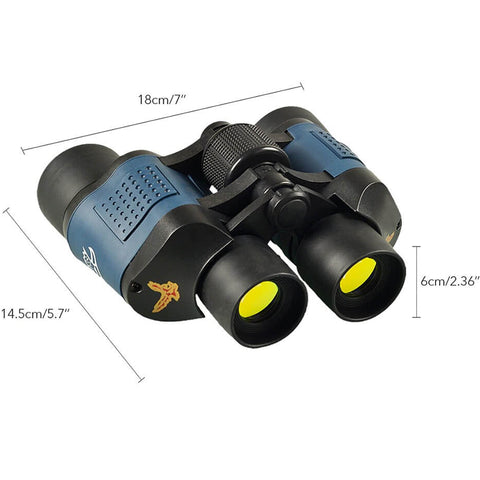 Package Content
1x 60x60 Binoculars Telescope Night Vision
1x Carry Bag
1x Strap
1x Lens Cap
1x Eyepiece Cap
1x Lens Cloth
1x User Manual

Specifications
Prism: BAK4
Water Fog: Yes
Horizon: 17mm
Material: Plastic
Angle: 8.2 degree
Distance: 5-3000m
Magnification: 60X
Sheath: Rubber Skin
Built-in Coordinates: Yes
Relative Brightness: 25.00
Exit Pupil Diameter: 5.0mm
Objective And Green Film: Yes
Size: 18x14.5x6cm / 7x5.7x2.36in
Field Of View: 8mftat / 160000m
Eyepiece Diameter: 16mm / 0.6in
Minimum Focusing Distance: 5.0m
Objective Diameter: 35mm / 1.37in

Shipping Information
Domestic Shipping (USA): Your 60x60 binoculars will be packaged and shipped within 3 days of ordering. Please keep in mind that our items are custom made and shipped from warehouses across the world meaning it may take them 7 to 22 business days to arrive after shipment (most of the time closer to 14).
International Shipping: The telescope night vision will be packaged and shipped within 5 days of order. We do ship worldwide! Please be patient and note that delivery times will vary depending on your location. Majority of countries will have the 60x60 binoculars telescope night vision delivered within 2 to 5 weeks!
Our Guarantee
We truly believe our products have made everlasting impacts all across world and we fully stand by our products. You are the reason why we're here today, so we want to give you a risk-free 30-day guarantee for all of your purchases.
If you don't have a positive experience for any reason, we will do whatever it takes to make sure you are 100% satisfied with your purchase.
We have 24/7 Email Support Team that is always ready to help. Please contact us if you need any sort of help or even just a listening ear.