Feel Young Again With Support & Stability Of The Ankles With Our Adjustable Ankle Brace
If you have weak ankles, arch pain, plantar fasciitis, heel pain, pronation and foot pain in general while walking. You are limited in activities you wish to do. The Adjustable Elastic Ankle Brace is designed to treat all of the above problems.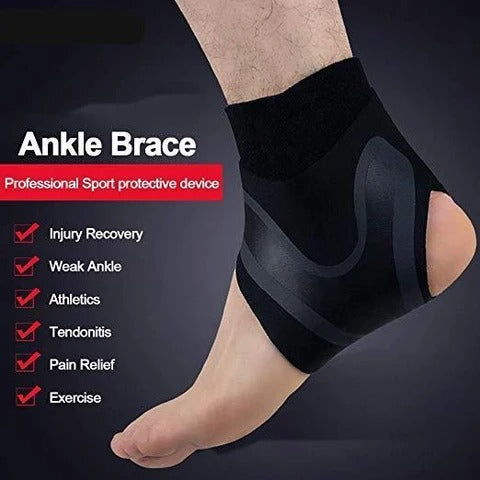 The Adjustable Elastic Ankle Brace is lightweight and durable, and is embedded with 4D stretch technology.  With a low profile design, target ankle joints, arch nerves, and muscles which allows you to move without pain from foot discomfort problems.
Features:
Increased Blood Circulation: The compression of the ankle brace provides increased blood circulation to your feet, your feet sometimes lack good circulation being so far from the heart, solve this with our brace.
Strengthen Foot: Strengthen the foot, arch and ankle region by providing support, we recommend wearing everyday if recovering from an injury, or condition, and then using less frequently as you begin to heal.
Allows Mobility: Move easily and pain free when your feet are supported.
Prevents Ankle Sprains: The ankle brace is designed to stop you from spraining or twisting your ankles when in use.
Speed Recovery: With more blood circulation to the area you can speed recovery.
Pain Relief: Provides relief for Ankle Sprains, Achilles Tendinitis, Overpronation, Heel Spurs, Faciitis, Flat Feet and other foot disorders.
How To Use:
Specifications:
Size: Small, Medium, Large & Extra Large
Size Chart: