Keep Your Greens And Garden Easy To Clean And Manage!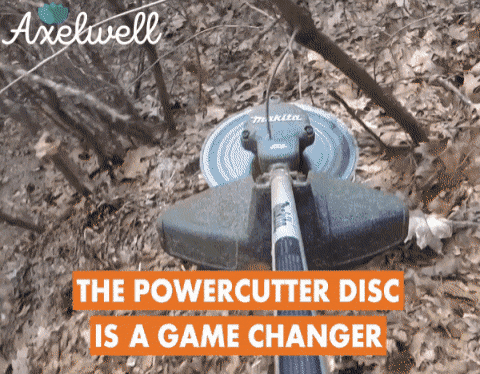 Cut thick bushes, small shrubs, grass, and dense weeds easier than before! Save time and energy with the ChainTrimmer. With its anti-kickback design, you can easily cut in any direction with minimal effort!
The chain saw cutter is fixed between the two steel plates, which provides a safe grip for engraving. Regardless of the texture or knot, the cutter easily penetrates the material. Our disc has a universal head that fits all trimmer models (Stihl, Echo, Worx, Black & Decker, Greenworks, Husqvarna, and other brands).
The blade is very easy to use on a trimmer with a 1-inch arbor. The max speed is 10,000 RPM. It is recommended to wear heavy-duty leg protection and eye protection.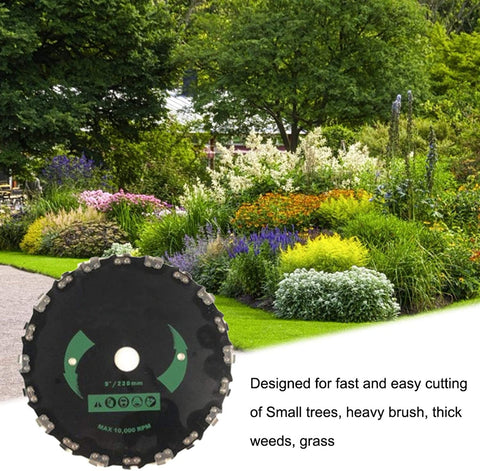 FEATURES:
Easy to Use: You can now cut through grasses and bushes in no time! The Chainsaw Brush Blade can easily clean your whole yard.
Quick and efficient: This allows you to cut grasses fast and easy to save time and money!
Sharp chainsaw tooth:

The c

hainsaw tooth riveted onto the cutter can be sharpened with a 3/16" chainsaw file.
Multi-functional: 

With this tool, you can cut

small trees, shrubs, heavy bushes, dense grass, and weeds.
Maximum RPM: The chainsaw tooth can operate at a maximum of 10, 000 RPM.

Work with trimmers:

It w

orks with gas-powered trimmers and brush cutters with engines 30cc and above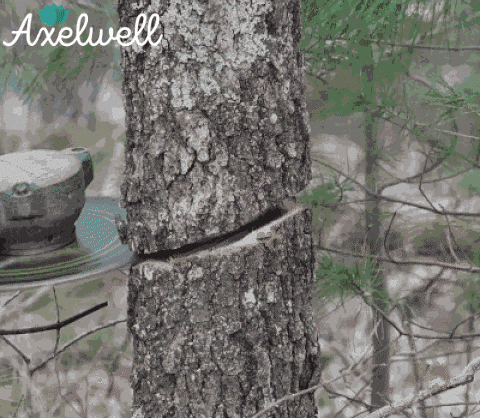 HOW TO ASSEMBLE:
Unscrew your current disc or string trimmer.
Check the spinning direction of your trimmer.
Make sure that you get the ChainTrimmer direction correctly. The arrows will let you know in which direction needs the blade to spin.
For most trimmers, the ChainTrimmer arrows have to face up.
Tight the nut as hard as you can.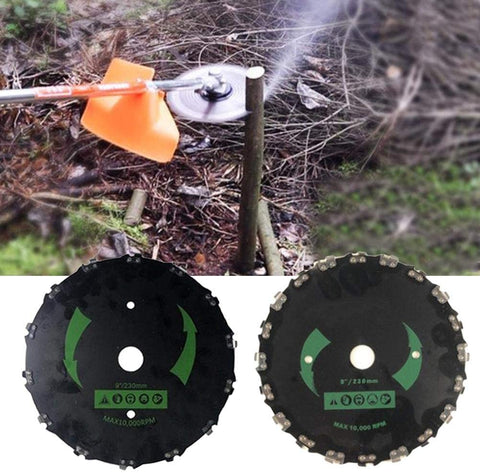 SPECIFICATIONS:
Material:Steel

Diameter:230mm

Hole diameter:25.4mm

Thickness:2mm

Max speed:10000rpm

Item weight: 508g / 1.1lb
Use with caution!
Please keep in mind that all safety gear should be used when using our ChainTrimmer. This blade does not come with an adapter to install to your weed trimmer.
Please check with your trimmer manufacturer to ensure your trimmer can support a brush blade and get the correct adapter directly from the manufacturer to have a secure fit.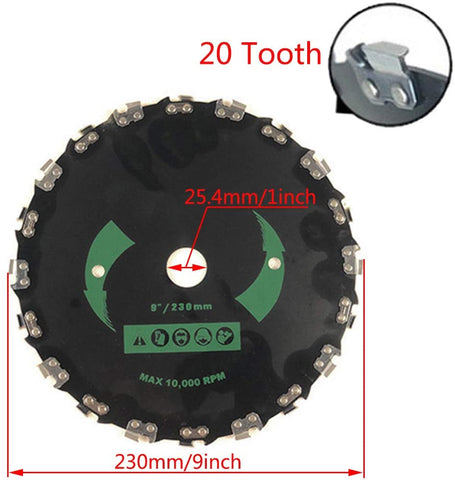 PACKAGE INCLUDES: