Your Private Jump Rope Coach Will Keep You On Track For Your Fitness Goals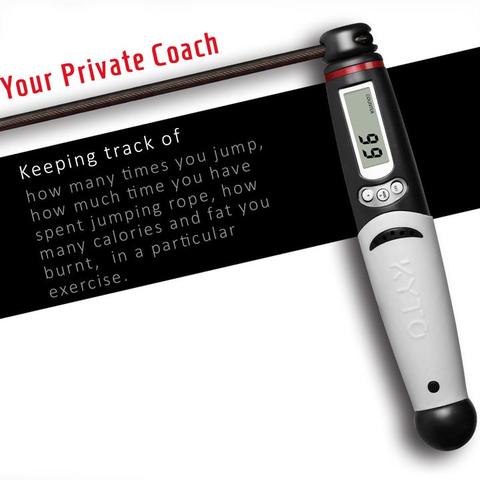 The Digital Jump Rope is the perfect home gym addition for improving your endurance and achieving results you always wanted faster.  Under-utilized by regular fitness goers, jump rope is used by professional athletes and fitness experts because it is tremendously effective but also very simple at burning calories.  It is one of the most simple but powerful exercises you can do to increase your endurance level and lose weight fast!  It's simple to do anywhere including your home.
Weights can be added inside the handle for a more challenging workout.
With our high Digital Skip Rope you can increase your endurance and stamina very quickly all in the comfort of your home without having to count.  It includes a digital counter, timer and calorie counter.
AMAZING RESULTS, IN LESS TIME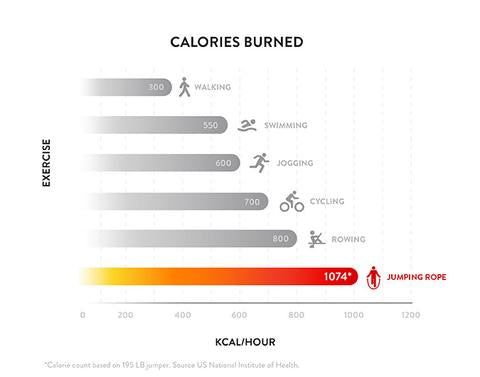 You can achieve a great overall body workout with our jump rope.  It takes about 10-15 minutes of daily skipping to elevate your heart and get a good sweat going.  You'll be surprised how fast you will see amazing results.
Stamina and Endurance quickly and easily boost your overall fitness level and your speed, agility, balance, dexterity, endurance, coordination and concentration
Loose Weight

 

burn calories quickly and efficiently
Versatile perfect for anyone with any level of experience, can be used anywhere
Core Strengthening best overall workout that gets your heart elevated and blood pumping
Ideal

 

for people that are limited on time and space, very easy to get a quick work out in without going to the gym

Best For

 

Cardio workouts, CrossFit Double Unders, MMA training, WOD, boxing training, HIIT, Muay Thai training, and more!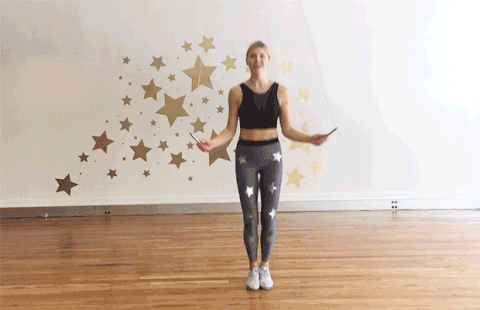 Features:
Digital Counter integrated digital skip counter, timer and calorie counter for precision tracking
High-Quality Barrings

 

the handles contain a low friction barring that allows for smooth skipping and precise digital counting so you can focus on your workout
Light Weight and Portable includes a high quality lightweight cable and anti-slip handles for smooth skipping
Length Adjustable

 

includes 10ft - 3m of rope that can be adjusted for the perfect length
Durable and Tangle Free the handles are durable and light weight and the cord is tangle free
Weights Area inside the handle to add weights ( Not Included )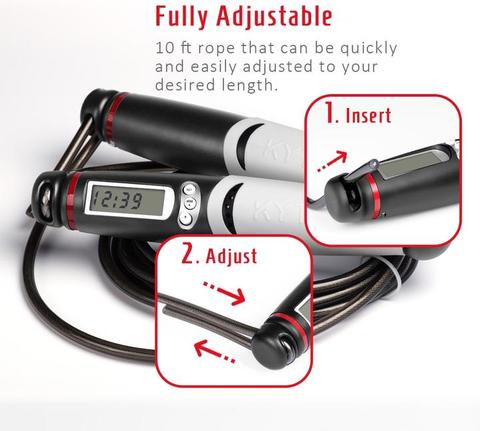 Proven Results:
Works out

 

abs, core, shoulders, arms, upper and lower back
Strengthens muscles and reduces muscle fatigue and boost stamina
Perfect

 

overall fitness accessory for your home gym
Specifications:
Size: 10ft - 3M cable length - adjustable, 5.5in - 14cm handle length
Material: Lightweight Steel,  Anti-slip Handles
Color:

 

Black-Grey