100% Money Back Guarantee

Free Shipping Worldwide

99% of Customers Recommend this Product!

Climb inside this human-sized balloons and hit that new low!
These balloons are durable, strong and large enough for you to climb in and do some fun. The balloon is also extra thick that has a wide neck opening in order to pull the balloon over your body. You can wear this during a funny act, or just playing around with your friends. These balloons are used by professional artists and clowns all over the world. A unique, silly, yet funny balloons for extraordinary kind of fun!
Bounce all the boredom away and get hysterical with this whimsical gigantic balloon!
Note: For safety, always make sure to get somebody to help you in case of emergency. Make sure the balloon is well inflated.
UNBELIEVABLY HUGE. When fully inflated, this balloon can contain around 3000 liters, which is 3 cubic meters. When not inflated the balloon is approx. 52cm x 62cm and weighs 240g.
LARGE NECK OPENING. The neck of the balloon, the opening for climbing in is approximately 17 centimeters.
SUPER STRONG. Made with natural latex, it has extra endurance because this balloon is dipped multiple times.
EASY TO USE. When inflated the easiest way to seal the balloons is using large balloon clips. The best way to inflate these balloons is with an electric balloon pump.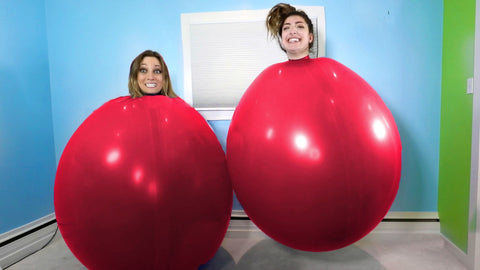 Specifications
Material: 100% Latex
Unit Weight: 240 grams
Package Inclusions
1 x Giant Human Egg Balloon