Multi-Function Anti-Spy Detector Camera GSM GPS Signal Audio Bug Finder

This product is directionally developed with high proprieties. Adopting more advanced digital receiving mode makes the detection frequency domain wider and greatly improves the anti-interference ability and sensitivity in order to protect personal privacy better. It is designed to locate any transmission devices that are within 35 to 40 feet of your location.
Such as hidden wireless cameras, digital audio recorders, wiretaps,Bluetooth, GSM dictograph and stealth headset and mobile network connecting devices. This product is easy to operate and portable, and protects your privacy and business secrets in the maximum extent.

Radio Freqency Signal Detector for Hidden Cameras, Wireless Bugs, GPS Locator
It can detect radio frequency wireless signal, magnetic field and laser scanning hidden cameras.

It can detect hidden cameras, wireless bugs, 2G 3G 4G phone SIM card, recording devices, GPS trackers.

It can detect wired or standby cameras with the viewfinder by the red spot reflected by cameras.

It can detect the magnetic devices with the GS probe.

Uses sound, light, and vibrations to alert users to the hidden device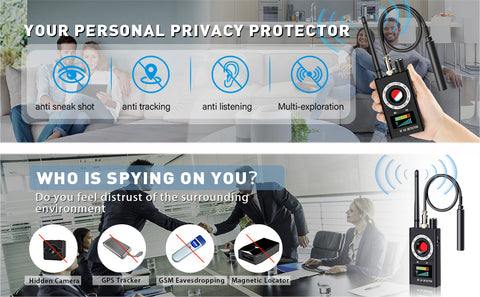 SIX CHARACTERS, WORK PERFECTLY

Detector uses high speed security chip, which provides high computation speed and security protection. It equips the detector with strong mind.
It's fully automatic detection, scan surrounding as far as possible. It's easy to use. ( Frequency range: 1 MHz – 8000 MHz ,  Detection range: > 73 dB ).
Intelligent analysis implants in detector, which provides smart mind. Key algorithms included . ( Signal analysis algorithm – nothing miss , Anti-jamming algorithm – work stable, Processing algorithm – analyse more ).
High sensitive misses less suspicious signals. It's from our advanced craft and system design. (Detection sensitivity: < 0.03 mV (main band),  Range: 1.2G:15 square meters(standard 10mw))
The scanner alerts you with indicator light, vibration or beep when the suspicious RF wireless signal or magnetic field signal is detected. You can select proper alarm as the case.
Lithium polymer batteries is included. One charge offers you about 4-5 hours continuous working time, up to 5 days standby time .It protects you longer to meet your requirements.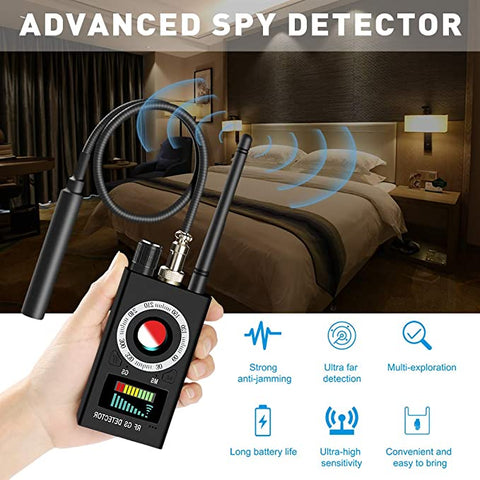 Specifications:
Material: Plastic
Colour: Black
Item type: Signal detector
Wireless detecting range: 1MHz to 6.5GHz
LED lens detector: up to 70000MCD bright
Antenna length: approx 8cm / 3.1in
Product size: 117*56*20mm
Battery capacity: 3.7V DC 1000mA
Charge: 5-6VDC
Type:US Plug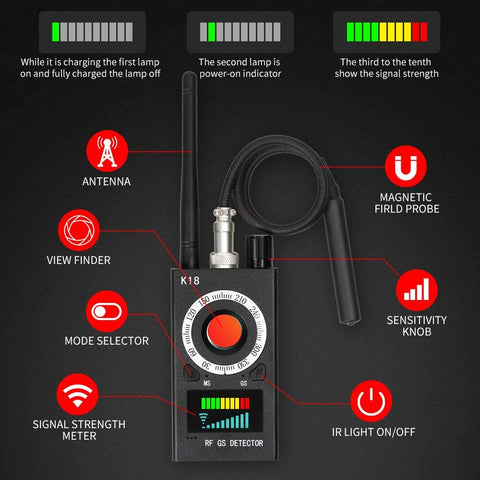 Package list:
1 * Hidden Camera Detector
1 * RF Antenna
1 * Charging
1 * USB Cable
1 * User manual