Are you looking for a dish drainer rack that helps dishes to air dry and prevents water from falling in the tray as water drips onto the drainboard? Our Multifunctional Dish Drainer Rack Organizer can save room in your kitchen while still adding charm, an ideal present for friends and family.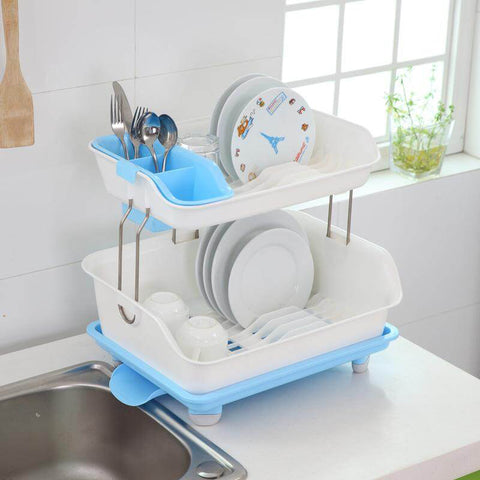 Features
Design - Customizable parts allow you to design a drying rack exactly to your needs.  The 2 tier multipurpose drying rack is easy to use.
Removable - Removable drain basket absorbs water from the upper tray, allowing you to keep the bottom rack dry even though all levels in operation.
Large Capacity - With specially sized trays for each form of the dish, this compact dish rack will dry your plates, cups, silverware, glasses, and more.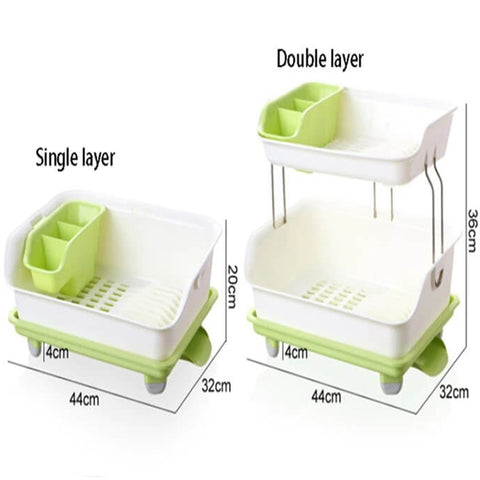 Package Content
1x Multifunctional Dish Drainer Rack Organizer
Specifications
Material: Plastic
Shipping Information
Domestic Shipping (USA): Your multifunctional dish drainer will be packaged and shipped within 3 days of ordering. Please keep in mind that our items are custom made and shipped from warehouses across the world meaning it may take them 7 to 22 business days to arrive after shipment (most of the time closer to 14).
International Shipping: The dish rack organizer will be packaged and shipped within 5 days of order. We do ship worldwide! Please be patient and note that delivery times will vary depending on your location. Majority of countries will have the multifunctional dish drainer rack organizer delivered within 2 to 5 weeks!
Our Guarantee
We truly believe our products have made everlasting impacts all across world and we fully stand by our products. You are the reason why we're here today, so we want to give you a risk-free 30-day guarantee for all of your purchases.
If you don't have a positive experience for any reason, we will do whatever it takes to make sure you are 100% satisfied with your purchase.
We have 24/7 Email Support Team that is always ready to help. Please contact us if you need any sort of help or even just a listening ear.