Say Goodbye to a Messy Kitchen!
The No-Mess Kitchen Fruit & Vegetable Peeler is designed for a rich new experience for your kitchen. It comes with a container that helps to prevent the spilling of fruit and vegetable peels, hence maintaining cleanliness in your kitchen. Peel and scrape your food items with less clutter and efficiency. Make this an essential part of your kitchen accessories for your culinary pleasure.
The Quality Peel with Less Hassle 
Our uniquely crafted product is designed to make your work effortless. It consists of a double-sided knife that comes fitted with its container. To peel, the peeler can be easily pushed or pulled toward or away from the user. The container acts to collect the waste as you peel.
Features
Ergonomic Design, Less Mess
It gives you a nice good grip for perfect handling and use. The stylish thumb handle is curved and made of silicone with good anti-slip properties. It gives excellent physical support,  won't get your hands cut, making it safe to use. It's also suitable for both left and right-hand use and offers better stability along smooth surfaces compared with straight handles.
Sharp Effective Blade, Saves Time
It's fitted with an ultra-sharp knife that cuts quickly. It's surgical-grade stainless steel that gives a professional cut. It only cuts away the vegetable skin while saving the flesh. No resistance or clogging is produced as you cut or peel. The blade is serrated yet easy to clean.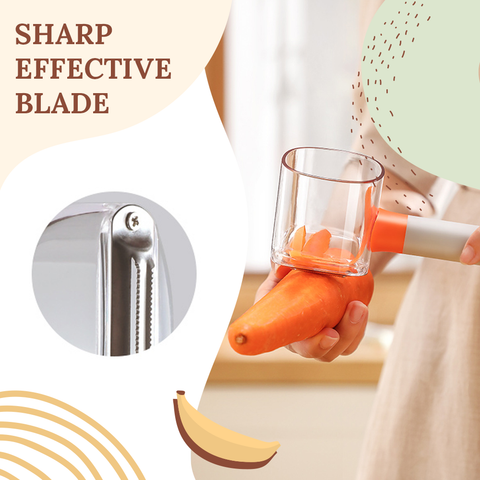 As you peel, the waste gathers in the container, saving your kitchen from a messy look. The waste can be conveniently disposed of from the container, keeping your kitchen space neat and tidy. The container space is ample to provide enough storage room.
It's made from BPA-free material and stainless carbon steel blade. It's entirely food grade making it non-hazardous for use. It's dishwasher safe and is easily cleaned under running water in just seconds.
The peeler design conforms to all fruit shapes, making it easy to cut different things. Use it to slice and peel your citrus fruits, potato, mangoes, carrots, apple, oranges, pickles, cucumbers, eggplant, butternut squash, and more. It's also great to use for your favorite mixed drinks and to make citrus garnishes. Use it when you want to make zucchini noodles, pumpkin spaghetti, or carrot julienne for your meals.
It's a great idea as a present to impress a cherished person. Make a gift to your friend during special occasions like Valentines, Mother's Day, Birthday or New Year. Touch the heart of your loved one with this sleek, stylish accessory which also has a great ornamental look.
The peeler is made of superior materials that make it resistant to wear. The blade is rustproof with long-lasting quality. This tool gives you superb performance with an extended life without breaking.
Technical Specifications:
Package Size: 8.43 x 3.46 x 3.27 inches
Item Weight: 4.4 ounces
Material: ABS, silicone, stainless steel
PACKAGE INCLUDES: 1 x Multifunctional Kitchen Fruit Peeler