Our IBTS One-Step Easy Gel Nail Polish Pen, Various Lush Colors can be used on various surfaces such as nails, paper, and other artwork! Various lush colors! You can easily paint your nails like a professional at home!
⭐️⭐️Main features -
💅 No base / top coat anymore, 1 pin does it all.
💅Ideal for creating your own beautiful nail art design on fingers or toenails;
💅Suitable for use with other nail art products;
💅Can be used on artificial nails and natural nails;
💅 No base / top coat anymore, 1 pin does it all.
💅 Quick-drying formula. 5 minutes to complete your nail art.
💅 Compared to traditional gel polish, you save money and save time, but the enchanting color remains the same.
💅 Pen-shaped appearance design, portable and easy to use. Normally it can take 14-21 days.
💅 Suitable for natural nails, UV gel nails, false nails, acrylic nails, nail tips, etc.
💅 No nail damage, pleasant and breathable.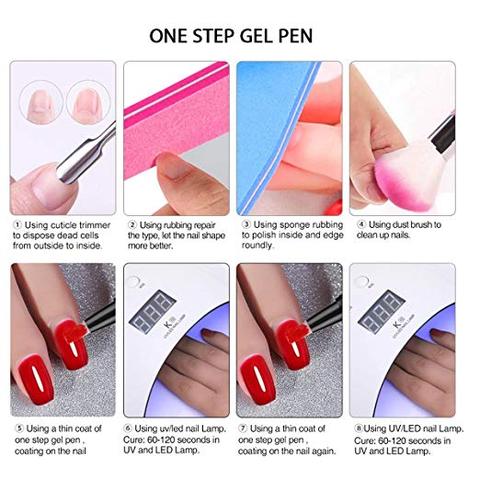 How to remove -
Soak the nails in acrylic remover for about 5 minutes.
Tear the whole piece of nail polish gently on each nail.