LIGHTS ON, LIGHTS OFF

Time to get rid of your old and boring lamps and replace them with this contemporary and high-quality 3D Moon Lamp that would surely add up to the ambiance of your room!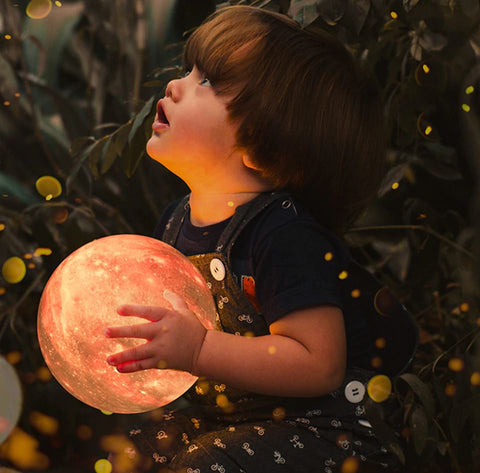 FEATURES

3D effect on the surface of the moon based on NASA satellite astronomical data. The color painting process makes the ball colorful. When the light is turned on, it seems to be in the brilliant galaxy. As the color and viewing angle change, it shows A magical and colorful color.


Remote control and touch control: Touch the metal ring to switch 7 colors, touch the remote control to switch 16 colors of remote control dimming. And it also supports automatic conversion of one color or color.


Long-life battery (500mAh): Built-in USB rechargeable battery, easy to carry. And it can be used normally during the charging process (full charge for 3 hours, use for 15-30 hours).


Cool decorative light: This moonlight light can be used as a decorative light, children's light, night light. The colorful color changes bring novel feelings to children, which is very suitable for decoration and special occasions of children/children's room.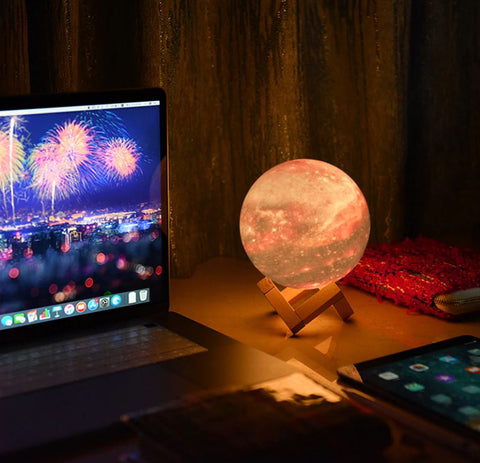 SPECIFICATIONS

Material: PVC
Size: 8CM, 15CM, 18CM, 20CM
Weight: 155g, 420g, 540g, 670g
Voltage: ≤36V
Built-in battery: 500mah
Light source: LED
Light color: 16 colors
Switch: Touch switch
Charging method: USB
PACKAGE INCLUSION

1 X 3D Moon Lamp - Colorful
1 X USB Cord
1 X Manual
1 x Remote