The One Finger Cutter allows you to cut items with one finger. It featured a zirconia ceramic blade that is laser-sharp and long-lasting than steel. It is perfect for cutting and opening up various types of tricky packaging, boxes, envelopes and more.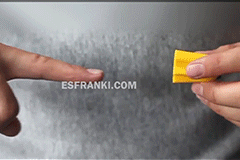 Our cutter's safe blade profile means the accidental injury is almost impossible. This makes it kid-friendly and great for everyday household use.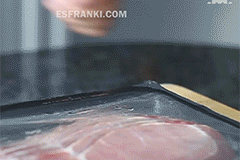 Made of silicone rubber, the cutter can easily adapt for fingers of all size and fit comfortably on each of your fingers. 
FEATURES:
Practical:
The one finger cutter is great for opening up parcels, boxes, and most hard-to-open packaging. 
Safe for Children:
With its safe blade profile, these cutters are safer to hold and use compared to traditional metal blades. It is almost impossible to get injured with the one finger cutter. Kid-friendly and suitable for household use.
Long Lasting:
Features a high-tech ceramic blade that is almost as hard as diamonds; lasts longer than steel and never rust. 
Comfortable: 
The cutter comfortably fits on each of your fingers with its soft silicone outer.
HOW TO USE: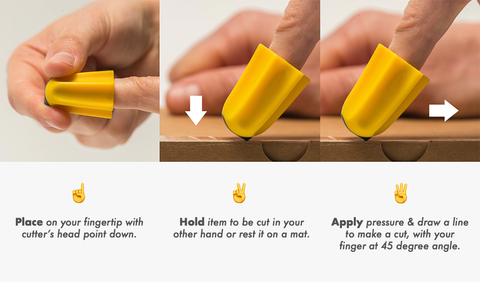 Place on your fingertip with the cutter's head pointing down.

Hold item to be cut in your other hand or rest it on a cutting mat.

Apply pressure and draw a line to make a cut, with your finger at a 45-degree angle. 

SPECIFICATIONS:
Material: Silicone Rubber & Ceramic
Color: Yellow
Size: 9.7 x 7.4 x 2.5 cm
Weight: 0.64 ounces
PACKAGE INCLUDES: