Get Rid Of Bunions With Our Bunion Splint! Reduce Pain & Get Back Your Good Looking Feet Naturally!
✅ Ships With USPS
✅ 100% Money Back Guarantee
✅ In Stock
Our Toe Straightener Bunion Splint is a sure way for you to fix your bunions, at home and naturally. They feature soft, durable Velcro straps that can be tightened or loosened according to foot size. The Velcro strap between the big toe and the second toe separate the toes and realign the big toe joint, reducing the effects of hammer toe and overlapping toes.
If you have bunions on your feet, then our bunion correction device is an easy to wear and extremely comfortable option for you.

Made from high quality materials, it can stretch and conform to your foot, while maintaining it's full support, it is perfect for men and women of all foot sizes.
The bunion splint is one of the safest and most natural ways to take care of your bunions.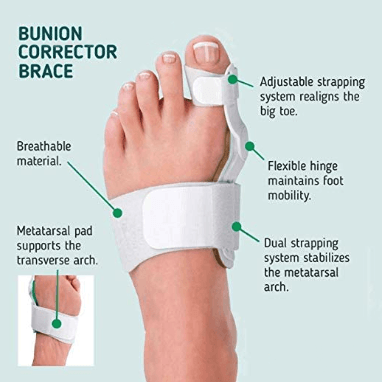 Avoid costly surgery and enjoy being on your feet again!
The Orthopedic Bunion Splint comes in a Set of 2
Features:
Use Anytime: The bunion splint is a resting splint, for both day and night time use.
3 Point Pressure System: It applies a 3-point pressure system to relieve the bunion and create bunion alignment.
Toe Straightener: Helps to adjust the big toe to prevent valgus.
Fully Adjustable: Adjustable in bone pad to ease the pressure of the toe joint, and to maximize the scattered pressure.
Comfortable: It is extremely comfortable to wear and is adjustable to ensure maximum user comfort and support anytime.
Arch support: Designed to relief forefoot stress with a built in arch support.
24 Hour Use: Can be worn day and night.
Machine Washable: Can be washed, use a gentle cycle.
One Size Fits All: Adjustable to provide a comfortable fit for men and women.
Get Rid of Bunions: Effective bunion splint to get rid of bunions, easily.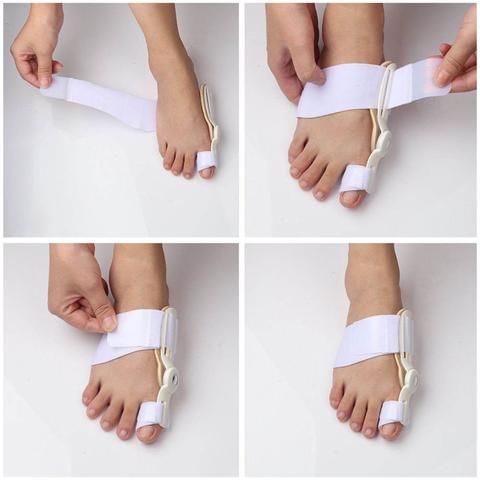 Product Specifications:
Material: Soft Plastic, and cotton, easy to clean and reusable.
Color: White
Size: 5.5" One Size Fits All
Package Includes: