Sleeping on your side has never been this comfortable before!
Our leg pillow prevents uncomfortable bone on bone rubbing & instantly realigns the spine to support a healthy posture. It relieves unwanted tension & alleviates pain points in the hips, legs and (lower) back.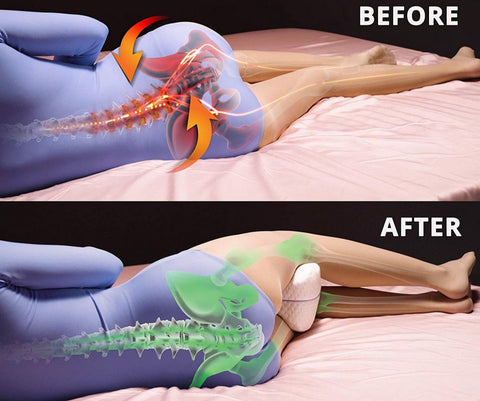 Made in-house with the latest durable memory foam technology, the SmoothSpine leg pillow ensures your body gets the long-lasting comfort it deserves.
Features every side-sleeper absolutely needs:

- Flexible strap. Ensures the pillow stays in place during the night.
- Exclusively ventilated. Stays cool all night so the pillow can be used year-round.
- Washable cover. Use the zipper to easily remove the cover and machine wash it.
- Ergonomic design. Adaptable to any body type, for both men & women.

- Premium quality. Made out of the material of the highest range on the market, assuring durability and maximum comfort.

Recommended by top medical professionals
Physicians, chiropractors, physical therapists, and personal trainers trust the Orthopedic leg pillow because of its superior design.