Are you looking for a lawn bowling set that can be used both indoors and outdoors? Our Outdoor 11inch Wooden Lawn Bowling Set provides hours of entertainment for both children and adults, making it ideal for both outdoor and indoor play.
Features
Portable - This outdoor bowling set also comes with a drawstring mesh bag for easy transport and storage. This set is suitable for both indoor and outdoor play, though it performs best on short-cut lawns, dirt, sand, carpet, and hard, flat surfaces.
Easy To Use - This 11-inch wooden bowling adds an outdoor touch to a classic game with specially crafted wooden bowling balls and pins in an appealing red finish. This game comes with everything you need for a fun day for youngsters, toddlers, teens, and adults, simply set pins upright, step back, and roll.
High Quality - The bowling lawn set is specially designed from New Zealand pine and polished for a high-quality finish. The New Zealand Pine is a softwood, it can withstand normal wear and tear over time to become a beloved classic lawn game loved by all generations of bowlers and athletes.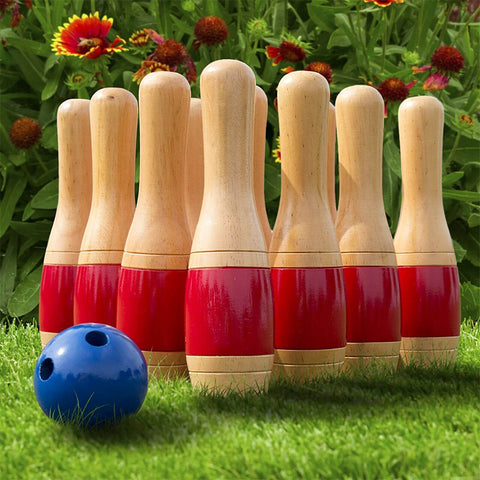 Package Content
1x Outdoor 11inch Wooden Lawn Bowling Set
Specifications
Material: New Zealand Pine
Shipping Information
Domestic Shipping (USA): Your outdoor 11inch bowling set will be packaged and shipped within 3 days of ordering. Please keep in mind that our items are custom made and shipped from warehouses across the world meaning it may take them 7 to 22 business days to arrive after shipment (most of the time closer to 14).
International Shipping: The wooden lawn bowling will be packaged and shipped within 5 days of order. We do ship worldwide! Please be patient and note that delivery times will vary depending on your location. Majority of countries will have the outdoor 11inch wooden lawn bowling set delivered within 2 to 5 weeks!
Our Guarantee
We truly believe our products have made everlasting impacts all across world and we fully stand by our products. You are the reason why we're here today, so we want to give you a risk-free 30-day guarantee for all of your purchases.
If you don't have a positive experience for any reason, we will do whatever it takes to make sure you are 100% satisfied with your purchase.
We have 24/7 Email Support Team that is always ready to help. Please contact us if you need any sort of help or even just a listening ear.