MULTI COLOR WATERPROOF BALL SHAPED SOLAR FLOATING LAMP SWIMMING POOL LAKE GARDEN HOME LAWN DECORATION SPA PARTY LED USED LIGHTS|LED UNDERWATER LIGHTS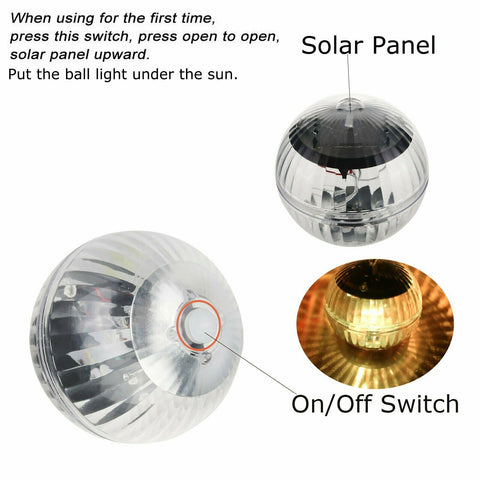 Ultra-bright 7 colors change automatically and create a unique lighting experience in your garden.
Solar powered float lamp, automatic sensor is activated at dusk.
Can swim on the water and hang on the tree.
On / off switch placed on the bottom of the floating lamp, energy saving and environmentally friendly.
Perfect fit for garden, yard, park, tree, swimming on pond, lake, swimming pool, aquarium and others outdoors
Type: solar light
Material: ABS plastic
Light color: Colorful, warm yellow
Battery: 1x 1.2V Ni-MH 600mAh (included)
Solar panel: 2V / 60mA
Diameter: 10cm
Power source type: solar, batter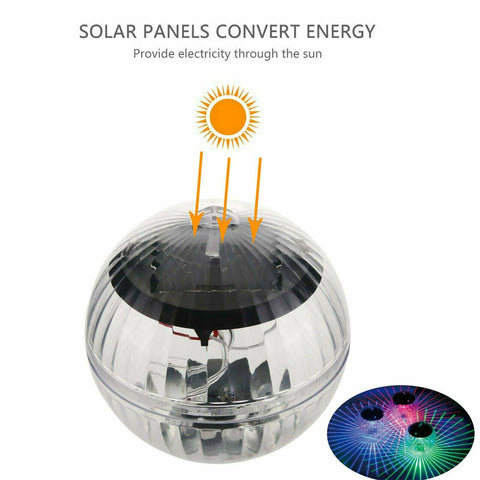 Instructions: When first used, the white waterproof button switch under the spherical lamp is turned on (press the position, it is "on").
It is exposed to the sun during the day (charging) and lights automatically at night, 6 hours of charging in the sun, 6 to 8 hours of light;
(Remember to press this button the first time, press it to open, solar panel up, installation towards the sun)
Package Included:
1 x solar powered swimming pool light