Owl White Noise Sleep Baby Sound Machine Generators
Help your baby sleep soundly at night by turning on our owl-shaped white noise machine. With its unique design, the sound machine can help create a peaceful environment to ease your baby into a blissful state of sleep.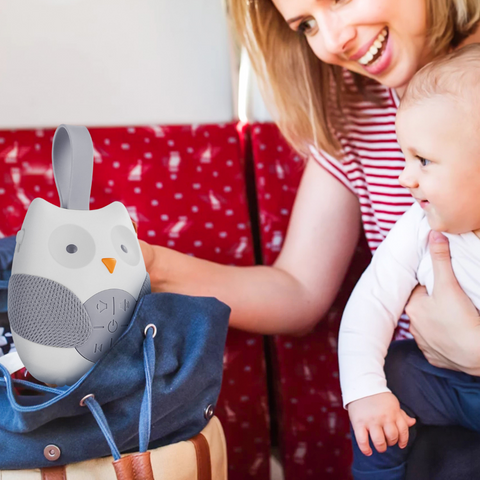 With its friendly owl design, the noise machine is perfect to place in your baby's room and can double as a toy too! It even comes with a silicone band that enables you to hang it on your baby bag, stroller, or car seat.
Not only that, but the baby sound machine is highly versatile and comes with control buttons to easily adjust the settings. This way, you'll be able to lower down the volume with ease when the sleep sound machine gets too loud.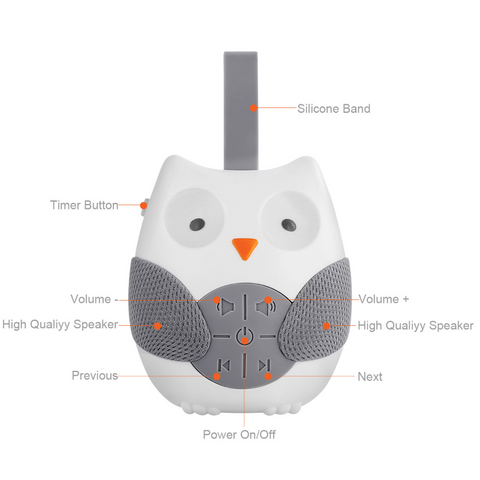 Even better, the white noise generator has a built-in speaker that only produces quality sounds while your child sleeps. Help your baby sleep peacefully wherever they are by switching on the sleep noise machine.
FEATURES
COMPACT - Measuring at just 4.3 inches tall, the white noise machine is extremely compact and easy to bring around. This way, you can bring the sound machine wherever you and your baby go for your convenience.
TIMER FUNCTION - Equipped with a timer function, the noise machine can be left playing up to an hour until your baby sleeps. There's also an option to keep it playing at 15 or 30 minutes at a time to save battery power.
MULTIPLE SOUNDS - Inputted into the baby sound machine are multiple sounds that you can choose to soothe your baby. Included in the playlist are 10 light music tracks, bird sounds, and wave sounds.

SPECIFICATIONS
Color: White + Grey
Material: Plastic + electronic components
Product Size: 3.9 x 2.3 x 4.3 in
Power Supply: 3* AAA battery (NOT INCLUDED)
Timer: 15min, 30min, 60min
Recom Age: 0+

PACKAGE CONTENT
1x Sleep sound machine