EASY TO USE, NO SPECIAL SKILLS REQUIRED
No special skills required. Fill the mold with concrete, smooth surface, and remove mould. Takes only minutes to complete many Sections. Please have a look at the size and type of PathMaker that you prefer.
Building concrete patios and walkways that resemble brick or cobblestone is an easy do-it-yourself project with PathMaker reusable plastic moulds. PathMaker moulds can be used with a variety of different coloured concrete mixes. This unique cavity-stone mould is designed to let you easily create straight paths and square patios as well as angles, circles and wide pavement.
PathMaker Molds create the look and feel of an expensive cobblestone pavement and natural stone with all the durability and economy of poured concrete. Express your creativity with over 100 different styles of Patios, Driveways and GardenPaths.
How To Use:
It consists of irregular holes, which can fill the cement slurry in the mould.

And then smooth the upper part by hand.

When dry, take out the loading mould and sprinkle the stone sand (or plant the grass) in the gap.
FEATURES:
To make roads of different colours
Suitable for gardens, meadows, balconies, villas and more
Save money to make roads of different colours and Shapes.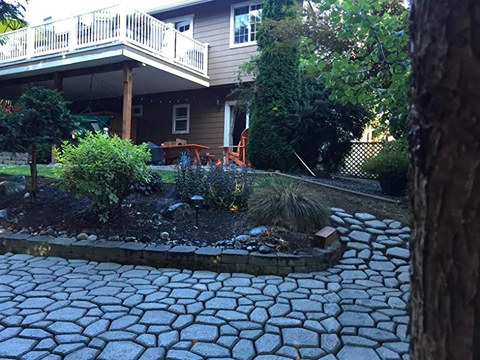 Specifications:
Material: plastic

Model: Polygon, Square, Hexagon

Weight: about 920g, about 600g, about 220g
Package Includes: