Remove Unwanted Moles, Dark Spots, Freckles & Skin Tags Comfortably At Home With Our Instant Mole Removal Pen Plasma Pen
Are you tired of trying to get rid of skin moles, dark spots, freckles and skin tags with no results?
Creams, and ointments can be extremely expensive and you may not even see any difference after using them. With our Laser Mole Removal Pen you can see improvements in your skin within one treatment!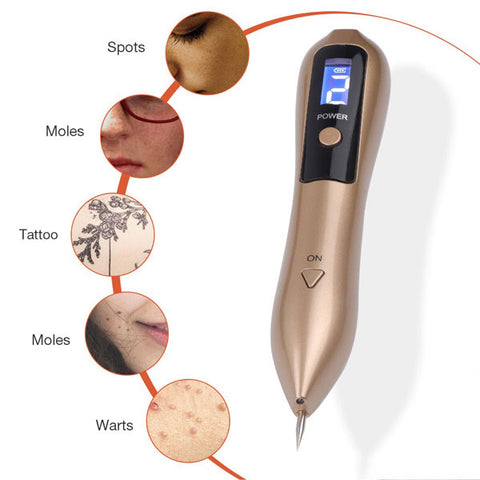 This derma pen safely removes dark spots on your skin such as skin tags, moles, warts, age spots, skin pigmentation's, and freckles without burning your skin.
Features:
Remove Dark Spots At Home: This skin tag removal device is rechargeable and designed for home use. You can use it anytime at your home without the hassle of scheduling an appointment with your dermatologist and spend hundreds of dollars to remove dark spots on your skin.
Sweep Skin Problems Instantly: Using electric ion carbonation technology, this wart removal pen safely burns any stubborn spots on your skin that will instantly give you clearer skin without bleeding. It comes with different needle sizes to accommodate any type of spot on your skin.
9 Intensity Levels to Choose: This mole removal kit is equipped with 9 intensity levels that you can adjust to treat various skin conditions. The lower level is recommended for age spots and freckles while the stronger level is suggested for use on skin tags, moles and larger spots.
Upgraded With LED Clear Display: This miracle pen is built with an LED display for convenience when using the device. It displays the working intensity and battery levels which helps you control and monitor the device better.
Easy to Operate Spot Remover: Our skin tag remover is compact and easy to operate and can be used anywhere at any time. Just press the ON button to switch on and off, adjust the intensity power to your desired level and start removing those pesky spots on your skin.
Reveal smooth, clear, and even skin using this Instant Skin Tag, Wart & Mole Removal Pen at the comfort of your own home.
How To Use: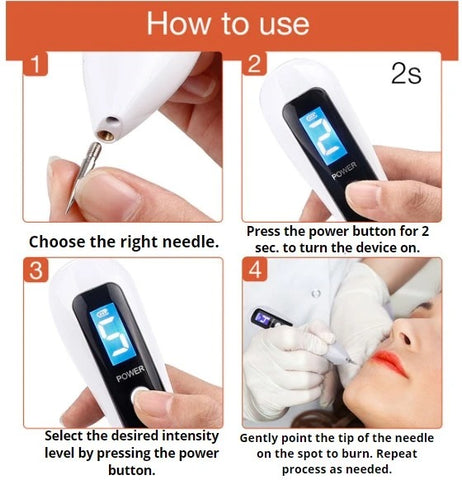 Specifications:
Material: ABS
Size: 1.38 x 7.09inch
Color: Gold / Pink / White
Power 5.5W
Voltage 3.7V
Package Includes:
1 x Instant Mole Removal Pen
1 x Coarse Needle
1 x Needle Sleeve
10 x Fine Needle
1 x USB Charging Cable
1 x Manual
1 x Box