Powerful Handheld Ice Fishing Drill Auger
Drill through thick ice without any hassle with the help of our powerful ice auger. Our professional-grade ice auger drill makes ice fishing a breeze, making it the ideal equipment to have on hand whenever you go ice fishing in the winter.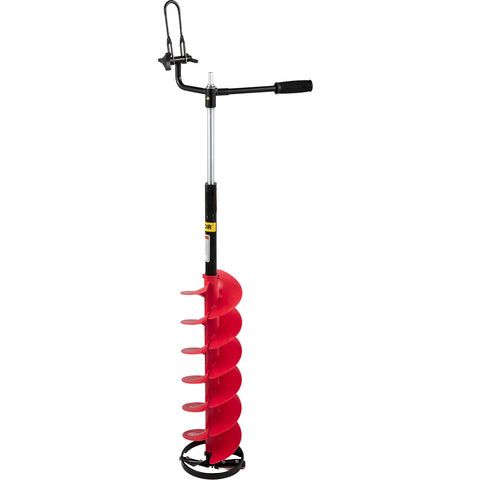 This ice fishing auger is constructed with durable nylon and compared to steel material, is more lightweight and less prone to rust. In addition, the shaft is made of aluminum, which is strong enough not to shatter or bend easily. 
With two sharp steel blades, the hand ice auger cuts through ice like a knife through butter. This means that when you are using our ice fishing drill auger, drilling through the frozen surfaces of oceans, lakes, and rivers needs very little effort.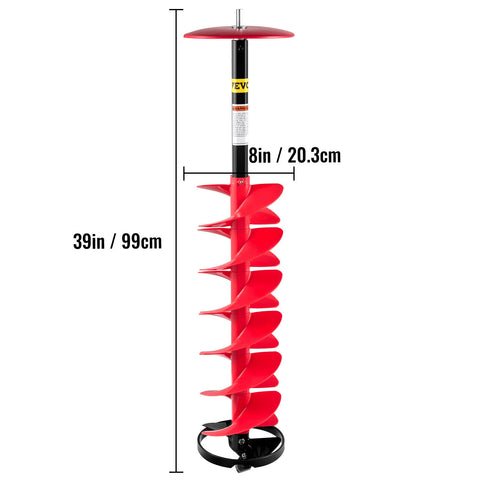 Best part of all, the ice auger is included with two extra blades that you can use for replacement. Make your ice fishing more convenient and hassle-free by using our premium ice auger drill.
FEATURES
HIGH-PERFORMANCE - Made with high-quality material, the ice fishing auger has a drilling depth of up to 41", giving you maximum drilling power. Not only that, it comes with a top plate that can block the splashing of ice dregs so that the hand ice auger stays steady and secure in one place.

MULTI-PURPOSE - Having our ice fishing drill auger means there's no longer a need to scour for extra accessories. This is because our ice auger is uniquely created to have a shaft that adapts to multiple types of icy terrain.
DURABLE -  Our lightweight ice auger drill comes with two heavy-duty steel blades that will last for years. Drill through ice with minimal effort by using our rust-proof battery powered ice fishing auger.
SPECIFICATIONS
Color: Red/Black
Product Size: Φ8" x 39"/Φ20 x 99 cm
Adjustable Height: 41"/44.5"/48", 104 cm/113 cm/122 cm
Weight: 11.13 lbs/5.05 kg
PACKAGE CONTENT
1x Hand Ice Auger
4x Blades
1x Top Plate
1x Adapter
1x Blade Guard
1x Rubber Handle
1x Drill Fixator
1x Ice Ladle
1x Mini Wrench
1x Set of Screw