Forget the old traditional claw trimmers! Our new and improved Premium Claw Grooming Device is the premium claw trimmer you've been looking for. Make your pet's nail trimming much safer, easier, faster and more efficient and get the best results!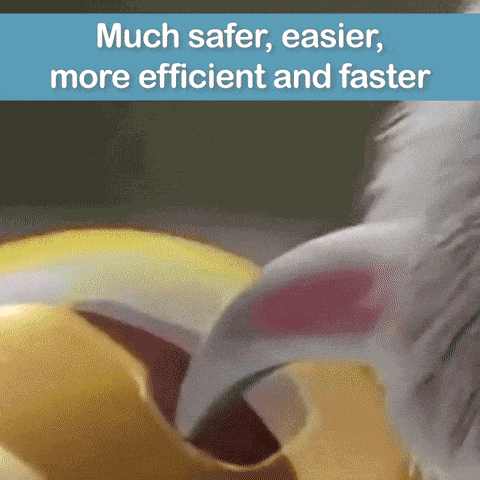 Description & Features:
Advanced and Innovative: Revolutionary claw grooming tool for your dog or cat. It is the newest, fastest and most efficient way to effectively groom your pet's nails/claws without messing!
100% Painless: Is your pet afraid of having their claws trimmed? That was also considered in the design! Trim nails precisely, round and smooth. No more worries about over-cutting, bleeding and uncomfortable pain. Paws will be soft to the touch and your home safe from scratches.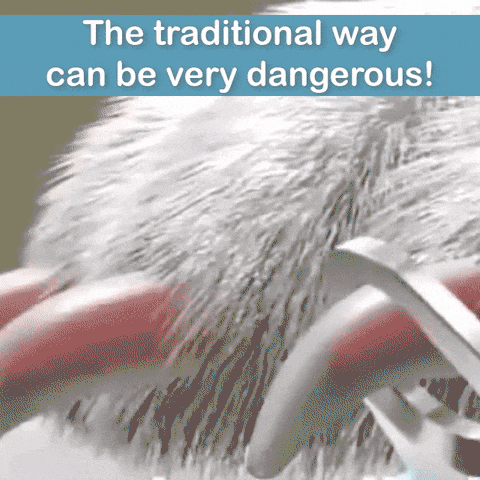 Low vibration and quiet operation: Equipped with unique damping technology and high quality grinder, thin layers of nails are removed gently. Thanks to the quiet operation, your pet can relax and sensitive dogs will no longer be scared, making your job easier.
USB charging function: save money on buying batteries! The Premium Claw Grooming Device comes with a USB port and cable. When fully charged, the device can operate for 5 hours
Save money on grooming: instead of having your pet's claws trimmed by a vet or other specialist, you can easily do it yourself in the future and save money.
Removable sharpening stone: The sharpening stone can be easily removed for cleaning. Simply rub the surface with a soft towel or cloth.
Suitable for all pet sizes: The Premium Claw Grooming Device has three different sized openings which are suitable for different sized claws. Just use the appropriate opening according to the size and characteristic of your pet's nail.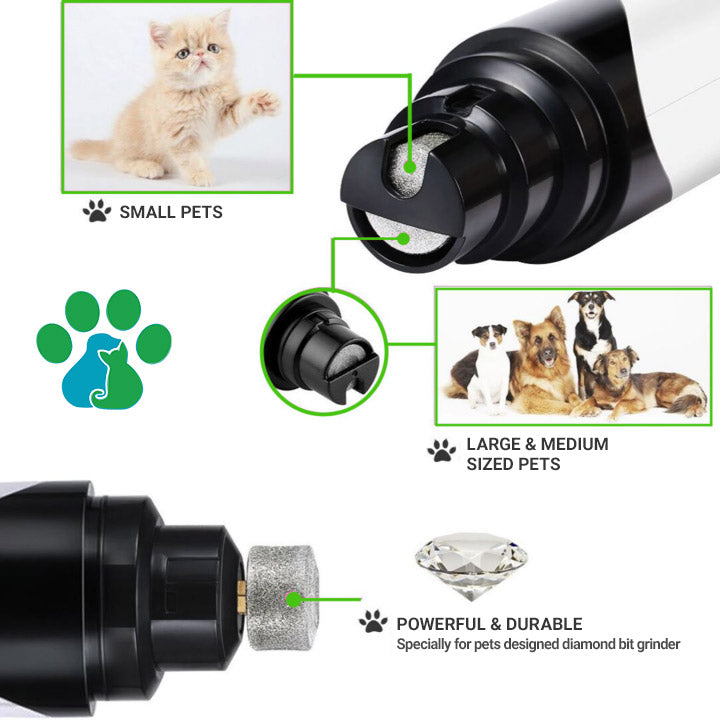 Directions for use:
Step 1: According to the size and characteristics of your pet's claws, choose the appropriate opening on the device.
Step 2: Hold the device in one hand and your pet's paw with the other. Gently insert the claw into an opening and begin grooming.
Step 3: After use, remove the grinder cover by turning it counterclockwise. Turn the unit back on and gently clean surface with an eraser, paper or cloth to remove nail debris.
Reward your pet before and after grooming to create a positive bond with the device.
Tip: Reward your dog before and after use. By doing this, you will create a positive connection to the device.
We are sure both you and your pet will love the Premium Claw Grooming Device!
Free Shipping:
Whether a delivery to Germany, to Austria or to Switzerland, there are no shipping costs for you. We will take care of that for you.
Scope of delivery includes:
1x Premium claw grooming device.
1x USB charging cable
1x packing box
1x instruction manual