Give The Bust A Perky Lift With The Strapless Front Buckle Lift Bra!
Perk up your bust with the Strapless Front Buckle Lift Bra! It gives any chest size lift and support for a perkier look with deeper cleavage while staying completely hidden under any outfit. 
Designed with a 3-level front buckle stabilizer, the correction bra reduces unsightly armpit fat or auxiliary breasts by pushing breast tissue in the center for fuller boobs. The extra-wide criss-cross back reinforcement design pulls shoulder backward against the rounded back but also strengthen the breast's supporting tissue & pectoral muscles.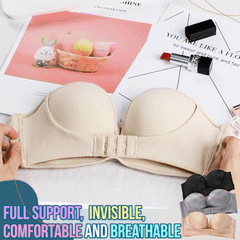 Provides anti-gravity strapless support with significant push up and non-slip functions – Comfort + Support + Style in ONE! Constructed with front buckle adjustable locks to secure a perfect fit, this non-slip bra fully supports even heavy breasts and firmly stays in place no matter how you move.

Features:
Go Strapless - Completely hidden under any outfit. Wear low-cut, off-shoulder and backless tops without ruining the look.
Cleavage Boost - The front buckle lifts your bust for a perkier look with deeper cleavage, while stabilizing and reducing bounce. 
Non-Slip Support - Fully supports any bust size without slipping by the secure front and back buckles and a back support strap.
Flattering Silhouette - Its wide wings flatten fatty bulges, creating a slimmer silhouette.
Utmost Comfort - Made from seamless, moisture-wicking, breathable fabric and completely wireless, it provides the utmost comfort for your chest.
Adjustable Fit - Available in different cup sizes, the front and back buckles are also adjustable with 4-row hooks for the best fit.
Specifications:
Color: Grey, Black, Nude

Size: 32-38, A-D cup
Package Includes:
1x Strapless Front Buckle Lift Bra