Keep your toothbrush bacteria-free and never again struggle to get toothpaste out
Keep your toothbrush bacteria-free and get toothpaste instantly without struggling to get it out. Designed to make your toothbrushing experience seamless, it releases the perfect amount of toothpaste without requiring you to touch anything.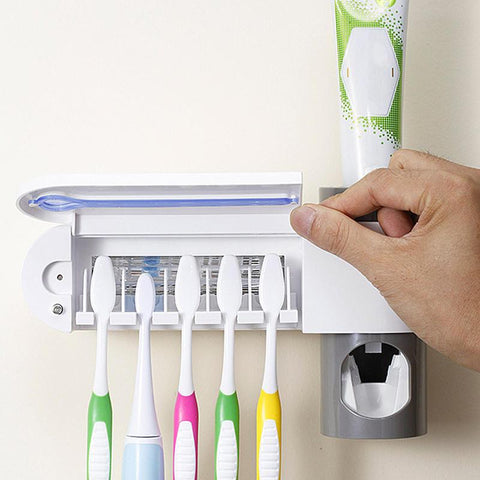 99.9% UV TOOTHBRUSH SANITIZER: Features a UV sterilizer that kills 99.9% of bacteria & germs on your toothbrush. It has been tested and certified on claims to meet the highest standards in the industry. You can use a fresh, clean toothbrush every time.
MULTIFUNCTIONAL STERILIZATION SET: It is a 3-in-1 set that holds your toothbrushes in place, sterilizes them and cleanly provides you toothpaste without spills or struggle. It saves space and time, and guarantees a germ-free experience.
AUTOMATIC DISPENSER: Never again struggle to get your toothpaste out. Built with an automatic dispenser that leverages a vacuum pump, it squeezes out the perfect amount of toothpaste you need. Your toothpaste doesn't get wasted and stays very neat, keeping your bathroom clean.
KEEPS YOUR BATHROOM CLEAN: Features 5 slots where you can insert your toothbrushes, allowing you to keep them organized. It also frees up space in your counter since you can mount it on the wall. 
ENVIRONMENT-FRIENDLY MATERIAL and EASY TO USE: Our toothbrush sanitizer kit is made of ABS material, which is environment friendly and odorless. You can easily stick your toothbrush holder to your glass/ceramic tile with 3M tape, or secure to wall with screws.